Financing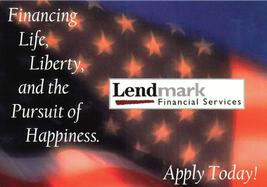 Lendmark Financial Services is a consumer finance company that specializes in providing direct and indirect personal loans, first and second non-conforming mortgage loans, auto loans, home improvement loans, and merchant retail sales financing services.
Lendmark operates out of 100 branch locations throughout Georgia, Tennessee, Virginia, Maryland, Florida, North Carolina, South Carolina, Kentucky, West Virginia, and Delaware.

Lendmark Financial Services have caring and professional staff makes borrowing easy, convenient, and affordable. They will quickly review your financial picture and give you the best possible rates and terms available.
They will work with you to provide monthly payments that fit your budget. Lendmark Financial Services loans are as individual as the people who apply for them!
About Lendmark
Lendmark Financial Services Company was organized in 1996 in the basement of Liberty Mortgage Corporation in Atlanta. They became part of the BB&T family when their parent company, First Liberty Bank, merged during the summer of 2000 with Branch Banking and Trust Company in Winston-Salem.
Lendmark Financial Services original mission was to meet the personal and mortgage lending needs of clients in the state of Georgia who could not be served by traditional bank products. The company's founders are among the current executive staff at Lendmark, Bobby Aiken President and CEO and Joe H. Burgamy Senior Vice President of Branch Operations.
---
Bill Me Later